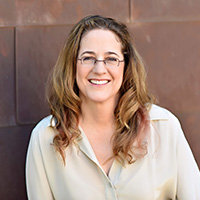 Samantha Young Cervantes has over 30 years of eldercare experience including nursing facility and adult day care administration, teaching of long-term care administration, owner and operator of private duty home care agency, and family caregiver to both of her parents.
An idea that began ten years ago after noticing through her own caregiving experience that there was no one place to find information and training for caregivers.
In 2000, when Samantha became pregnant with her second child while working for Family Eldercare's in-home care program, she decided to start her own in-home care agency so she could bring her children to work. In 2001, when her father was diagnosed with cancer, she became her parents' caregiver and after her father passed away, her mother moved in with her family, which included four kids.
Samantha's thirty plus years of health care experience has included Nursing Home Administration, owning and managing an adult day care, teaching the Long-Term Care Program at ACC as an adjunct professor, and owning and managing a private duty in-home care agency which had over 120 clients. She received her bachelor's degree in health professions from Texas State University – San Marcos.